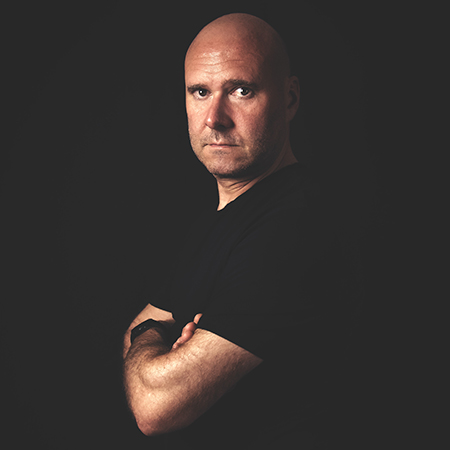 Mauro Lugato, aka Mauro Ghess e' nato a Treviso nel 1972, all'età di 14 anni comincia il suo primo approccio con i vinili. Nella discoteca "Golden" inizia la sua carriera da dj e da quel momento comincia a materializzare il suo sogno: FAR BALLARE IL SUO PUBBLICO.
Grazie a questa occasione impara a mixare con maestria svariati generi musicali, ottenendo così numerosi inviti a realizzare peculiari dj set nei migliori club di Treviso.
La sua versatilità nel proporre numerosi generi e' stata un'arma a doppio taglio poiché lo ha portato a non specializzarsi in un genere specifico e di conseguenza verso la fine degli anni 90, dopo peculiari esperienze nei suoi svariati dj set cominciava a percepire un po' alla volta meno stimoli anche da parte del pubblico.
Ciò non significa che la sua intenzione era quella di abbandonare la sua adorata musica. Rinchiuso nel suo studio di produzione ritrova se stesso e attraverso la sua passione per la musica decide di intraprendere un lungo e faticoso percorso di studio e ricerca per diventare a tutti gli effetti un Dj Producer, fino a creare, nel settembre 2019 la sua record label "SIAL Production", un etichetta discografica, attraverso la quale propone Tech House, Jackin House and Deep House.
Nel frattempo, chi ha avuto modo di apprezzare le sue doti in consolle e il suo talento musicale non ha mai smesso di ricercarlo e alla fine decide di riprendere in mano i dischi e a suonarli dal vivo, seppur con meno continuità perché ormai intravedeva una nuova strada all'orizzonte, una via percorsa anche dai suoi maestri di vita musicale come Dennis Cruz, Pawsa, Archie Hamilton, Sllash & Doppe, Giom and Mihai Popoviciu.
Nel 2021 ha la possibilità di pubblicare con la Kattivo Records e riesce ad arrivare primo nella classifica Tech House di Traxsource con il remix di "Do It Right", primo in classifica Elettro House con  "Banshee" e primo anche con il remix di "Dream" (prodotte assieme al suo socio di produzioni Tuby Rubber).
BIO ENG
To the century Mauro Lugato, a dove from Treviso was born in 1972, at the age of 14, he also begins to move "the first hands" over the vinyls. It is the Golden disco that gives him the baptism as a DJ and from then on he has never stopped realizing his dream: LET ALL DANCE.
This is the permission to learn how to mix the most varied musical genres and thus conquer the console of numerous and famous clubs in the Treviso area. But his versatility was also his condemnation: no longer recognizing in a specific genre and above all not finding more stimuli from his audience, at the end of the glorious 90s.
But he never leaves his beloved music. Closed in the studio he rediscovers himself, his passion and embarks on the long and arduous path to become a producer, until he created, in September 2019, the "SIAL Production", personal label with which he proposes his versions Tech House, Progressive House and Deep House.
In the meantime, those who know his talents have never stopped looking for him and in the end he also resumes playing live, but with much less intensity, because now the road is marked: follow in the footsteps of his masters such as Dennis Cruz, Pawsa, Archie Hamilton, Sllash & Doppe, Giom and Mihai Popovici.