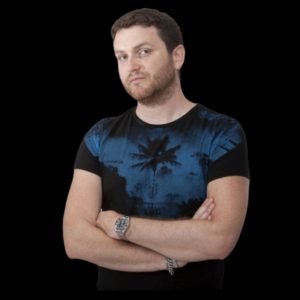 Alessandro Prazzoli, in arte Alex Phratz (in precedenza Alex P), nasce a Milano nel 1986 e fin da bambino mostra un grande interesse per la musica elettronica trascorrendo il suo tempo ad ascoltare i dischi in vinile di sua sorella (ad esempio "Electrica Salsa" di Off).
All'età di 14 anni la sua attrazione per la musica e la vita notturna, unita ad uno spiccato senso del ritmo, lo porta alla decisione di diventare un DJ e così, acquistata la sua prima consolle e imparate in breve tempo le tecniche di mixaggio, inizia a esibirsi in varie feste private e in piccoli locali di Milano per poi passare alle consolle di discoteche e discopub.
La sua attività di DJ lo porta a suonare in club noti e meno noti, sempre con la grande professionalità che lo contraddistingue in consolle.
Le sue selezioni musicali comprendono tracce molto ricercate e difficili da reperire che i più grandi successi del passato e del presente.
Come producer Alex inizia a comporre musica elettronica molto presto con programmi rudimentali, ma nel corso degli anni e con l'evoluzione dei software Alex mostra una continua evoluzione che lo porta a realizzare produzioni house, electro, dance e bigroom.
Oltre a tutte le produzioni uscite a partire dal 2006 sotto lo pseudonimo di Alex P, tra i suoi altri progetti possiamo ricordare Double Sound (progetto electrohouse con Steve Ersenemic), The Elektroprostitute (electro e tracce sperimentali), Fashion Cocktail (deep house, pop, ChillHouse), Groove Crime (produzioni club e house con Francesco Castelli), Houseways (produzioni dance con Fabio Carnelli), Punk Clubber (techno e produzioni elettroniche sperimentali).
Tra il 2009 ed il 2012 gestisce anche due etichette discografiche (Serious Digital Music e Solnce Records) in veste di A&R. Dopo circa un decennio dall'inizio della sua attività, nel 2014 Alex sente necessità di cambiamenti e crea il suo nuovo alter ego ALEX PHRATZ (realizzando sia produzioni house melodiche e radiofoniche, sia tracce più club-oriented ).
Oltre ai numerosi dischi prodotti da solista Alex, credendo molto nella capacità della musica di unire stili e mondi artistici differenti, è attivo anche sul fronte delle collaborazioni con Wave Dave (dj & producer), Yazee (producer e remixer di artisti quali Nitro, Fabri Fibra e Salmo), German Leguizamon (voce maschile del duo dance The Soundlovers), Luca Zeta, Adriano e molti altri artisti.
Attualmente Alex porta avanti tutti i suoi progetti musicali, si esibisce come DJ in svariati club, collabora con tante altre etichette discografiche di ottimo livello (Hit Mania, Claw Records/Net's Work Records, Media Records, Dance Republic/JayWork Music Group, Sound Management Corporation, Executiva Music…).
A settembre 2019 inaugura la label per cui svolge funzione di A&R, la Four Stripes Records, con lo scopo di lanciare sul mercato discografico nuovi talenti della dance music.
PRINCIPALI LABEL SU CUI HA PUBBLICATO PRODUZIONI
Hit Mania, Claw Records/Net's Work Records, Media Records, Dance Republic/JayWork Music Group, Four Stripes Records, Sound Management Corporation, Executiva Music, Inner Records, Distar, Emotiva, Acid '80, Antibe Music, Smilax,Footlovers Music, Trance Communication Recordings, Metra Records, Italian Way Music…